H-Cube® Pro
Flow reactor for advanced hydrogenation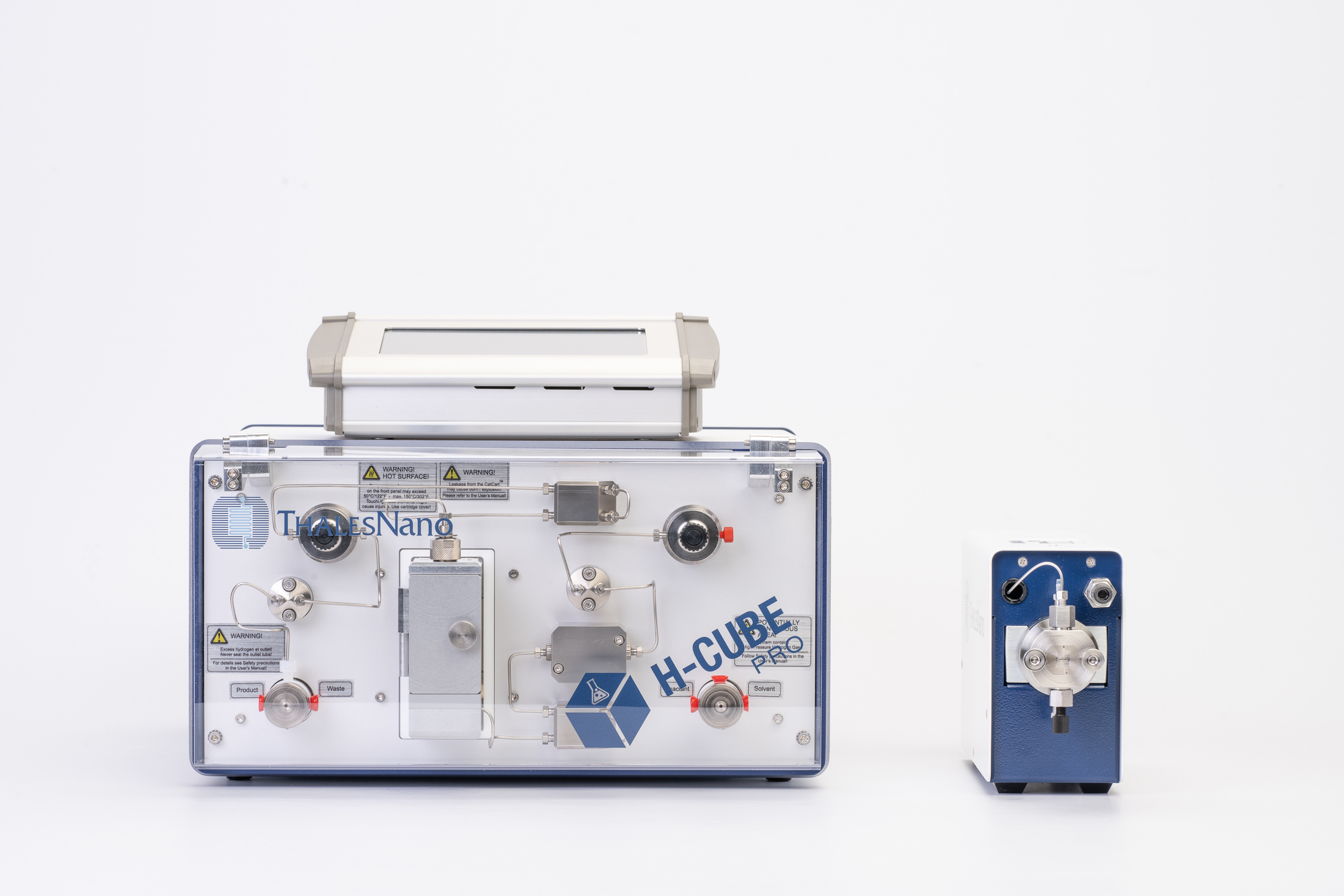 The H-Cube® Pro hydrogenation flow reactor offers high throughput and wide temperature capability for advanced applications.
Hydrogenation is one of the most important reactions in chemical synthesis, but the hazardous nature of hydrogen limits its use. The H-Cube® series have already eliminated the dangers associated with hydrogenation through the use of in situ hydrogen generation and the handling of pyrophoric catalysts by filling them in sealed catalyst cartridges (CatCarts®). This technology has been adopted by the leaders in the pharmaceutical, flavor and fragrance, fine chemical, agrochemical industries and in academia.
Features
Hydrogenation without cylinders: two electrolytic cells for the in situ generation of up to 60 NmL/min of hydrogen (up to 100 bar)
No catalyst filtration: 30 mm or 70 mm CatCarts® can be used with the system
Active cooling system down to 10 °C and heating capability up to 150 °C
User-friendly software that shows and records the real-time parameters
Timer function for automation
How does it work?
The hydrogen is generated by the electrolysis of water inside the system.
The HPLC pump introduces the pure solvent into the system, where it is mixed using a mixing valve with the hydrogen.
The gas-liquid mixture passes through the reaction zone while the system prepares to work at the selected parameters (pressure, temperature and flow rate).
When the desired parameters are achieved, the user can change the input from the solvent to the solution of the reactants.
The reaction mixture passes through a packed column containing the solid catalyst (CatCart®), where the reaction takes place. The product leaves the column, but the catalyst stays behind.
The product is collected in the collection vial.
The reaction scale can be varied from milligrams to grams.
Compatible systems
The H-Cube® Pro is compatible with other reactor modules to give users chemistry capabilities beyond hydrogenation:
Gas Module™
When the Gas Module™ is connected to the H-Cube® Pro, it allows the introduction of other gases than hydrogen, such as carbon monoxide, oxygen or Syngas. The user can choose from 14 different gases to be applied at up to 100 bar pressure, widening the reactor's chemistry ability significantly.
Recommended gas regulators:
N2 regulator: Linde C200/1A-200B
O2 regulator: Rhöna EN OX 03-10
H2 regulator: Linde fdr-200-100-380-h
Phoenix Flow Reactor™
The Phoenix Flow Reactor™ is a powerful instrument which can be heat the reaction zone up to 450 °C and is compatible with multiple types and sizes of reactors (CatCarts®, MidiCarts™, coiled reactors, metal-metal sealed catalyst columns). When connected to the H-Cube® Pro, it is possible to set up a system to perform single or double-step reactions in series and to monitor and control the whole process using the interface of the H-Cube® Pro.
Autosampler™
Fully automated processes can be implemented when connecting the H-Cube Pro™ with the Autosampler™ system which is ideal for performing optimization studies, catalyst screening (with the CatCart® Changer), or library production.
Technical data
Temperature range
From 10 to 150°C
Pressure range
From atmospheric pressure to 100 bar
Flow rates:
0.3 – 3 mL/min
Maximum hydrogen production rate
60 NmL/min in 100% of hydrogen production
Water reservoir capacity
300 mL
Water specifications
Deionized water with maximum conductivity of 71 nS/cm (min. resistance 14 MΩcm)
System Specifications of the H-Cube Pro™
Dimensions
Height:  40 cm (15.75") (including touch screen)
Width:   37 cm (14.6")
Depth:   51 cm (20.1")
Weight
23 kg (46.3 lbs)
Power requirements
115-230 VAC
5A/115VAC
2.5A/230VAC
47-63Hz, 300W
Dimensions of HPLC pump
Height: 127 mm (5")
Width: 76.2 mm (3")
Depth: 250 mm (9,84")
Weight of HPLC pump
2.32 kg (5.1 lbs)
HPLC pump power requirements:
100-240VAC, 1.3A, 47-63Hz, 55W
Water Reservoir Capacity:
300 mL