Phoenix™ II Flow Reactor
New and improved edition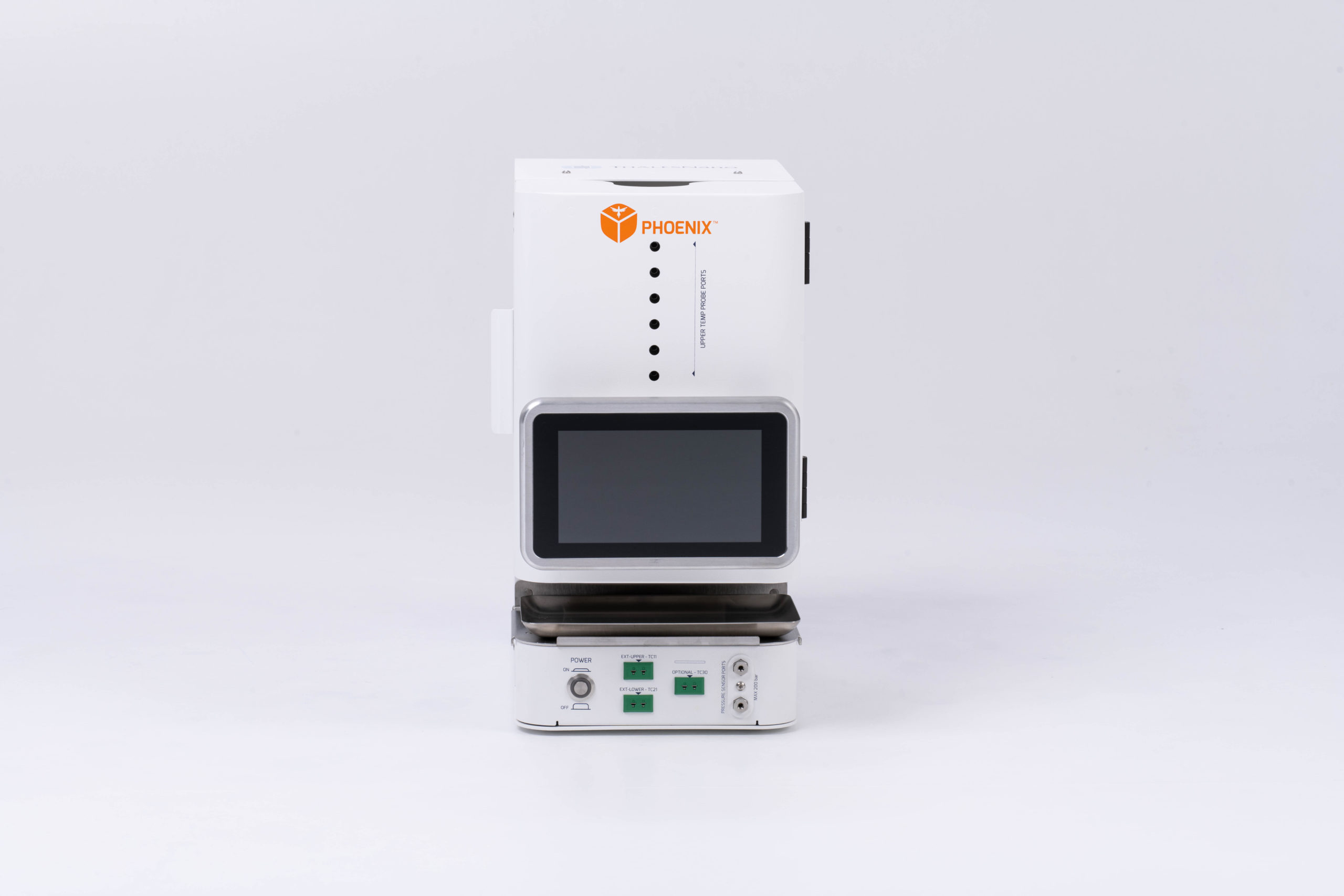 The Phoenix™ II Flow Reactor is the improved edition of the all-purpose Phoenix™ Flow Reactor, the reactor designed for high temperature and high-pressure reactions. Both instruments are enabling the synthesis of novel compounds in a parameter space not achievable with standard laboratory equipment. Building on the advantages of its previous version, the Phoenix™ II Flow Reactor offers an extended chemical parameter window (temperature up to 450°C, pressure up to 200 bar), unparalleled versatility of reactor options for both homogeneous and heterogeneous reactions and makes chemical processes significantly safer.
Extended chemical parameter window: temperature up to 450°C, pressure up to 200 bar
Heterogeneous and homogeneous capabilities
Reactor options: PTFE, Hastelloy and stainless-steel coiled reactors, user fillable metal-metal sealed cartridges and prefilled CatCarts® and MidiCarts™ are available
User-friendly software interface
Movable GUI touch screen
Modular, versatile
Rapid heating
Cooling for rapid cool-down at the end of the reaction
Multiple temperature sensors
Intuitive, easy set-up
Option of PC control
Multiple Gas Modules™ and pumps can be connected
Automated
Simple interchange of the reaction zone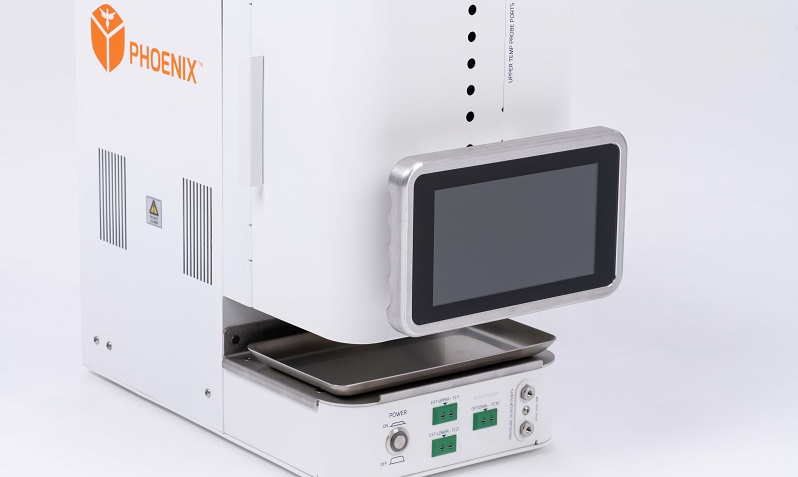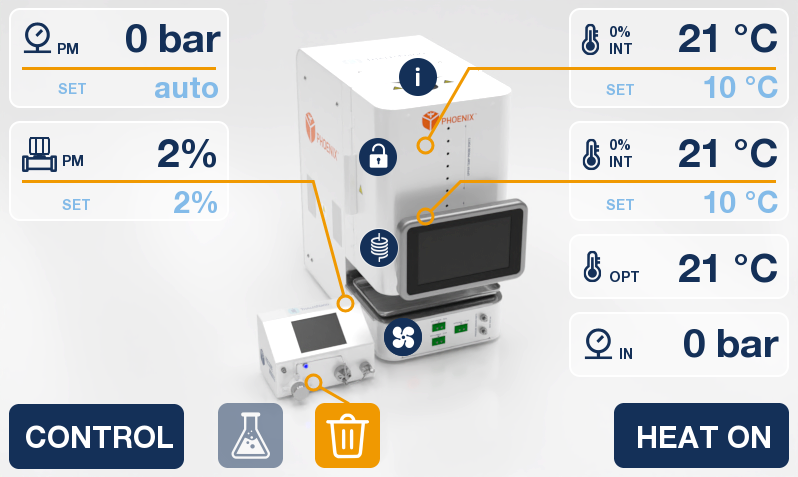 Modules for the Phoenix™ II Flow Reactor systems
H-Genie® II
With the H-Genie® II, you can use high purity hydrogen gas for your reactions, generated on-demand from water at pressures up to 100 bar (14.5–1450 psi) and at flow rates up to 1 NL/min, making your laboratory safer by replacing your hydrogen cylinders.
HPLC Pump
HPLC pump 10 mL/min THS – 09037
HPLC pump 50 mL/min THS – 43780
The HPLC pump is a 10 mL/min or 50 mL/min capacity unit with built-in pressure sensor (inlet pressure sensor). It is recommended to have an extra HPLC pump if multiple inlets are needed for the application.
Pressure Module™
The Pressure Module™ generates the pressure in the reaction chamber. The module contains a system valve, a pressure sensor and a 3-way valve to set the outlet (to waste or to product collection). The maximum pressure is 200 bar.
THS – 09042
Gas Module™ 
When the Gas Module™ is connected to the Phoenix™ II Flow Reactor, it allows the introduction of gases, such as hydrogen, carbon monoxide, oxygen, syngas, etc. 14 different gases can be used up to 100 bar pressure, or any gas which characteristics are under the safety parameters of the system, widening the reactor's chemistry capabilities significantly. It is also possible to use more than one Gas Module™ and mixers to introduce more than one gas at the same time.
Recommended gas regulators:
N2 regulator: Linde C200/1A-200B
O2 regulator: Rhöna EN OX 03-10
H2 regulator: Linde fdr-200-100-380-h
Available reactors and holders
The Phoenix™ II Flow Reactor is a powerful and versatile heating unit capable of reaching temperatures up to 450 °C. A big selection of ready-made reactor setups are available for both homogeneous and heterogeneous applications.
Packed bed reactors: Prefilled CatCarts® (30 mm, 70 mm long CatCarts®) and MidiCarts™ are available. We offer empty metal-metal sealed cartridges with fittings from 1/8" OD to 1/2" OD with 125 mm and 250 mm lengths for custom applications. The reactor holder sets are made of four pieces in each case; they are required to fill up the internal volume of the Phoenix™ II Flow Reactor.
Loops: 4, 8, 16 or 32 mL stainless steel or PTFE and Hastelloy loops are available.
Custom-made reactors are available as well, for these, please contact us at askthechemist@thalesnano.com.
Application Areas
Basic Configuration:
SNAr reactions
Boc removal
Claisen rearrangement
C-alkylation
N-alkylation
Supercritical reactions
Heterocycle synthesis
Addition to Basic Configuration:
Hydrogenation
Oxidation
Carbonylation