H-Genie®
Access high pressure hydrogen safely for your lab with the world's first smart hydrogen generator for chemists
The H-Genie® is an R&D TOP 100 award-winning compact hydrogen generator that utilises patented pressure cell technology to produce 4.0 purity H2 from water at pressures up to 100 bar (14.5–1450 psi) at flow rates up to 1 NL/min.
The H-Genie® is the only hydrogen generator that offers variable gas flow rates, reaction monitoring, and pressure capability for expanded and faster chemistry. H-Genie® is an ideal solution to providing high-pressure hydrogen for both batch chemistry and flow chemistry applications. The system is designed to be used in any laboratory to expand your chemistry capabilities.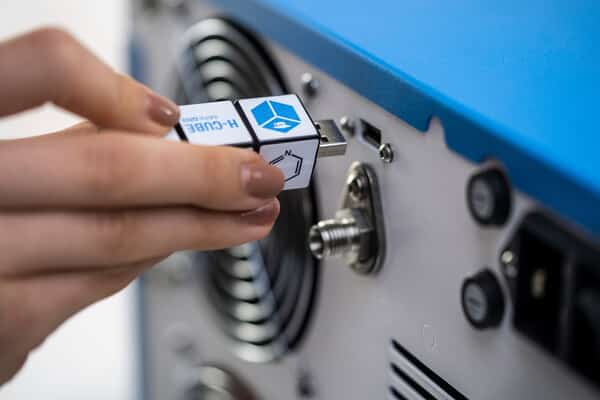 Features
Safe
The H-Genie® generates hydrogen from water on demand, removing the risk of having hydrogen cylinders in your lab. It also includes multiple safety features and emergency shutdown protocol.
Smart
With its built in massflow controller, the H-Genie® monitors the amount of hydrogen used which can easily be monitored through its graphical interface. All data can be easily exported.
Versatile
The H-Genie® is fully compatible with all batch and flow reactors, and even balloons. A ventilated fume hood is all that's needed to operate it, so you can use it no matter what your lab setup is.
Systems compatible with the H-Genie®
Phoenix™ Flow Reactor
The Phoenix™ Flow Reactor is a powerful instrument which can heat the reaction zone up to 450 °C and is compatible with multiple types and sizes of reactors (CatCarts®, MidiCarts™, coiled reactors, metal-metal sealed catalyst columns).
The combination of the H-Genie® with the Phoenix™ Flow Reactor offers unparalleled hydrogenation synthesis, scale-up, or catalyst testing capabilities.
Designed to be used safely in any discovery, development, process, petrochemical or catalyst screening lab, the hydrogenation platform combines in-situ high pressure hydrogen generation from water with high temperature reactor capability and a precise gas data monitoring system for the first time. Chemists and chemical engineers can now run hydrogen-based experiments with homogeneous or heterogeneous catalysts up to 450°C and 100 bar (200 and 300 Bar versions are available) without the need for hydrogen cylinders or hydrogen infrastructure.
Specifications

Hydrogen Production Rate
0.1-1 NL/min
Output Pressure Range
1-100 bar
Purity
≥ 99.99% (4.0 @ 100 bar)
Water requirement
Deionized water (recommended

conductivity < 1µS/cm)

Water consumption rate
200 mL/hr
Water reservoir capacity
3L
Recommended environment
Ventilated laboratory fume hood
Unit dimensions (H x W x D)
345 mm × 365 mm × 460 mm
Unit weight
38 kg
Outlet parameter
Swagelok O.D.: 1/8″